This chapter includes sections about raising kids on their mother, cold weather,surrogate mothers, grafting kids, creep feeding, weak kids, floppy kid syndrome, micro chips, weaning, castration, dehorning.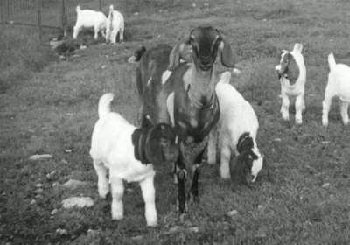 A surrogate mother is a doe who is not the kid's natural mother.
Colostrum also contains sugars, fats and vitamins that will give your kids a good strong start. Some kids just stand up and go find lunch all by themselves. Many, however, will do better to have a helping hand to get on a nipple the first time or two. The warm colostrum gives them a noticeable boost. You should clear the blockage that is usually present in the end of the teat, by milking the first few squirts from each teat into a cup or onto the straw. This will also clear a large percentage of the bacteria that is present in the end of the teat. After the kids have had their first good drink, I like to take a look every two hours or so the first day and make sure that the kids are getting up and remembering where to find dinner. If you go out once and the kids are sleeping, then go out again in two hours and the kids are sleeping, you need to stir them up and send them off toward mom.